PICKUP DUMP INSERTS
TruckCraft was the first with an all aluminum pickup dump insert, the TC-120 ULTRA. We were first to offer a three-year warranty and first with a 150 amp resettable circuit breaker standard in every wiring harness. There are no grease points on any of our insert dumpers because they are designed to use no-lube nylon bearings at every pivot point. We continue to innovate with our steel TC-101 MAGNUM, Providing a 6,200 pound true lift capacity. The unit uses a 3-stage front telescopic cylinder to get your load down low in your pickup bed for a safer center of gravity. The MAGNUM's all 6061 T6 aluminum sub frame cuts weight and never needs paint maintenance.
Features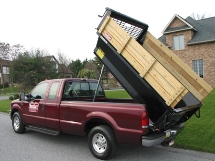 TC-101 MAGNUM STEEL INSERTS
TRUCKCRAFT MAGNUM OFFERS BEST-IN-CLASS FEATURES
A new productivity tool from TruckCraft makes your pickup truck a working dump truck.
If you're scratching your head and wondering what the real differences in pickup dump inserts are, you should check out the features of TruckCraft's TC-101 MAGNUM.
The big question – how much can it dump? Let's face it, if it dumps wimpy it's because it's designed wimpy. The dump capacity of MAGNUM is 6,200 lbs, and it is backed with a three year limited warranty, including the MONARCH™ power unit, to give you confidence it will dump 6,200 lbs everyday, period. The muscle doing the heavy lifting is the U.S.A.- made three stage telescopic cylinder. It has premium chromed rod sections and  aluminum glands with internal wear bands, premium components to be sure, and though you don't see them, they are just two of the many designed-in reasons for long life and excellent performance of TruckCraft dump inserts.
Check out the powder coat finish. As you probably already know, preparation is everything in powder coating. That's why we first grit blast the tub and tailgate to clean and mechanically etch the steel for good primer adhesion. Then they're coated with zinc-rich primer prior to powder coating. Then comes the final baked-on powder coat application. The result is a durable, long lasting finish that looks good and protects your investment. Chemical dipping or solvent-wiping are common powder coat prep processes, but only grit blast prep earns the right to wear the TruckCraft logo.
Check out MAGNUM's weight-saving aluminum sub frame- another reason why TruckCraft inserts are a cut above other dump inserts on the market today.  The extruded T6 alloy subframe has TruckCraft's standard two-bolt installation system built in so there are no extra mounting clamps or holes in your truck bed required for mounting.  Advantages of T6 are that it has the same tensile strength as steel, so it is half steel's weight but equal in strength, and is rust-free with no maintenance required. The T6 subframe is just one of the weight-saving components resulting in MAGNUM's best-in-class 600 lb. weight.
MAGNUM is designed to be virtually maintenance-free.  All five pivot points (two dump hinges and three cylinder pivots) have premium lubed-for-life bushings installed so there is no "grease" maintenance needed. In fact, an occasional washing, checking the hydraulic fluid level twice a year, and inspecting daily for debris or damage is all the maintenance MAGNUM ever needs to be dependable and well-groomed.
How about these additional features:  Heavy #4 battery cables with a 150 amp re-settable circuit breaker are standard and factory installed. Three-quarter inch diameter stainless steel dump hinge pins are "over-designed" for safety. The three way tailgate has chain sleeves to protect the body finish, and has neoprene bushings on the ¾" diameter latch pins to prevent tailgate rattles. Optional cabguard, tarp kit, and salt spreader are available for the MAGNUM.
2 year limited warranty
2 models – fit standard 8′ bed, or shortbed pickups ( 6 1/2′)
6,200 lb. dump capacity
2.5 Cubic Yard capacity (5+ Yd. with sideboards)
48.5″ x 99″ Cargo area
150 amp resettable in-line circuit breaker safeguards power in, and also allows manually switching off power under hood to disable unattended insert.
12 volt MONARCH HYDRAULICS™ Electro-Hydraulic system
47 degree dump angle
Powder-coat Finish
Two welded stake pockets on front bulkhead, 8 on sides with tie down rail
Dumper weight- 6 1/2′- 558lbs, 8′- 632lbs
27 second cycle time
2-4 hour installation time.
TC-121 ULTRA ALUMINUM DUMP INSERT
The TC – 121 ULTRA has been engineered from the ground up to provide users with years of maintenance free service. The body and frame are designed and constructed entirely of aluminum and stainless steel to provide durability and resistance to rust and corrosion. TruckCraft's innovative use of aluminum alloy extrusions welded to sheet aluminum enables them to offer a pickup dump insert that is 300 – 350 lbs. lighter than comparable steel units. The result is a unit that weighs less, hauls more payload, and will be less expensive to operate and maintain. This classy accessory for your pickup is available through distribution nationwide, and in Canada .
Rigid Floor of Extruded Aluminum – The floor is constructed of aluminum alloy plank extrusions that provide rigid reinforcement every 5″. This "tongue and groove" design, proven in roll-back car carriers, keeps the floor from deflecting under heavy loads and eliminates the "washboard effect" seen in light-duty sheet-bed models.
Aluminum Rails add Overall Strength – The TC-121 design utilizes a polished and fluted aluminum alloy extrusion on the top box rail of the body sides, and the top and bottom of the tailgate. This provides maximum strength at a minimum weight while adding a cool accessory to your truck.
Low Floor Height – only 3-1/4″ above the pickup bed – The 2.4 cubic yard payload loaded in the TC – 121 is positioned only 3-1/4 inches above your pickup floor. This safet feature adds greater volume and keeps the vehicle's center of gravity low. It also reduces the height that heavy objects must be lifted into the bed.
All Aluminum Bed – 48 1/8″ x 98″ – The bed holds a full sheet of plywood with the tailgate closed. The side board installation kit  used with your boards will increase the volumetric capacity from 2.5  to 5+ cubic yards.
Three-way Tailgate – The TC-121 tailgate has a paddle latch and can be opened and closed with just one hand. The gate can easily be removed for complete access. Control chains can be adjusted in any position for using the tailgate as a spreader.
3 Stage Telescopic Lift and Cab Protector – The ULTRA hoist system utilizes a heavy duty, three stage, telescopic cylinder with chromed rod sections. The hoist has been custom designed by TruckCraft to lift 7,000 lbs. to a 47 degree dump angle in just 18 seconds. The aerodynamic cab protector (shown) provides low wind resistance and great visiblity. The cab protector and a full tarp system are options that can be easily added to the TC-121 at any time.
Power Unit and Standard Remote Dump Control – A compact, one-piece MONARCH®power unit is factory mounted under the tub in close proximity to the hoist cylinder. The remote control buttons activate the motor/hydraulic pump from within the cab, or up to 12 feet away. One 12 volt battery cable (supplied) is the only electrical connection required.
150 amp reset able in-line circuit breaker – safeguards power in, and allows manually switching off power under truck hood to disable unattended insert.
The TC-121 comes with a 2 year limited warranty
Insert weight- 6 1/2′- 431lbs, 8′- 479lbs
2 Hour installation
TC-121S ULTRA ALUMINUM SHORTY
Designed to fit most 6 1/2 foot Chevy/Ford/Ram shortbed pickups, the TC-121S ULTRA has been engineered to provide users with years of maintenance free service.
Fits most Chevy/Ford/Ram 6 1/2′ shortbed pickups
All aluminum T-6 tempered alloy and .125″ formed sheet
All stainless hardware for custom look and lasting durability
7,000 lbs. dump capacity, 1.8 cubic yards volume
Body raises to 55 degree dump angle in just 19 seconds
12 volt, self-contained, MONARCH™ electro-hydraulic unit
2 year limited factory warranty
150 amp resettable in-line circuit breaker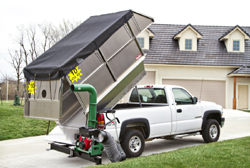 TC-150 LEAF TOPPER
The TC-150 Leaf Express is an all aluminum topper that can be quickly added to your TC-121 ULTRA dump insert to provide a sturdy 10 cu. yd. leaf box for your fall clean up.
Kit fits any full-size (8′) TC-121 ULTRA aluminum pickup dump, and can fit other makes with minor modifications.
Kit ships flat on skid; Assembled  wt-263 lbs;Shipping wt 295 lbs
Stainless steel corner tubes for rigid strength
Removable, swing-out tailgate has area for your vacuum snorkel (Hole not cut)
Kit includes pre-drilled panels, mesh tarp, bungees, stainless hardware- everything you need
Bolted assembly & installation requires around 4 hours
Made of .090 thick, grade 5052 formed aluminum
Holds ten cubic yards of leaves or grass
One year limited factory warranty
Options
TC-101 OPTIONS
Available in shortbed 6 1/2′ model
Cab guard
Rollup tarp kit
Quick Disconnect
TC-131 12V electric Salt Spreader
TC-121 OPTIONS
SlipStream Cab guard
Roll up tarp
Quick-Cover
Rear Side Board installation (Swing Away)
Aluma Boards 18″ Sideboards
Quick Disconnect
Orion Bulkhead
TC-131 12V electric Salt Spreader
TC-121S OPTIONS
Orion Bulkhead
Tarp Kit
Rear Side Board Mount kit (Swing Away)
Quick Cover
Quick Disconnect
TC-131 12V electric Salt Spreader
TC-150 OPTIONS