D-ICER SALT SPREADERS
TruckCraft's D-ICER product line offers quick install 12-volt electric spreaders made entirely of aluminum and stainless steel to fit your application, from pickup truck dumpers to 19,500 pound capacity chassis one-tons with dumping capability. With no expensive clutch or PTO pumps to install, D-ICERs connect right to your truck battery with no modifications. All D-ICERs come complete with a heavy wiring harness, U.S.A. made in-cab digital control, all mounting hardware, backed by a two-year limited factory warranty.
Features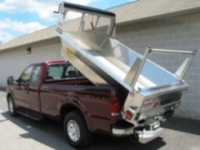 TC-130/131 SPECIFICATION
TruckCraft's TC-131 D-ICER is a premier spreader made entirely of aluminum and stainless steel. The system is designed to fit our TC-121 Ultra Aluminum Pickup Dump Inserts. The TC-131 is made of marine grade* aluminum and stainless steel, so is non-rusting and provides low maintenance and operational costs.  *All aluminum used by TruckCraft is T6 or 5052- H32, classed as grade A or B by the Aluminum Association Standard. Grades A and B are recommended for use unprotected in industrial or seacoast structures.
All aluminum and stainless steel spreader
Spreads 10,000 lbs of material per hour
Near "0" maintenance and operational costs
Fast return on your investment
Designed to adapt to many pickup dump beds with our inserts
U.S. made programmable controls
Highly reliable LEESON® electric motors
Clear auger jams in 1 minute with no tools
Remove TC-131 and replace tailgate in 5 minutes
Two year limited factory warranty (excluding wear items)
TC-140 SPECIFICATION
TruckCraft's  TC-140 D-ICER PLUS tailgate replacement spreader for one-tons requires no hydraulic system and is easy to install.
Handles any free-flowing material up to 3/4″ diameter
12V electric – no hydraulic system needed
Constructed of aluminum and stainless steel for years of hard use
Spreads up to 10,000 lbs of material per hour
Sealed LEESON® electric motors with oversized bearings
Hinged auger housing opens and closes in 60 seconds to clear auger jams
Four-hour installation, then on & off in five minutes
Mounting frame is a universal tailgate replacement
In-cab, lighted controls for operator convenience – U.S. made
Two year limited factory warranty  (excluding wear items)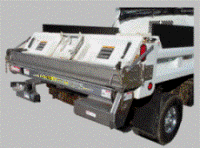 TC-160 SPECIFICATION
TC-160 LIGHTNING 12V ELECTRIC UNDER TAILGATE SPREADER. All TruckCraft spreaders carry a two-year limited factory warranty. Made of tough, corrosion resistant T6 Aluminum alloy and stainless steel you get the best of both worlds, weight savings and extreme durability in high-salt conditions. And check out innovative designs by TruckCraft, such as the completely enclosed 90 degree-angled gear reducer on the SPINNER DRIVE. It not only provides maximum road clearance by positioning the motor up, horizontally, but the 2:1 gear reduction doubles torque, allowing you to slow the spinner down without sacrificing torque. Heavy, factory assembled wiring harnesses carry power from the USA-made Electronic Control Unit to the enclosed, LEESON® Wash-Down-Grade motors, made with type 304 stainless shafts, double seals, epoxy coating, and sealed housings. It doesn't get any beefier than this. See one at your local TruckCraft dealer now!
All electric – needs no hydraulic system
3/4 HP auger drive empties 10,000 lb/hr*
1/6 HP spinner motor in protected housing
Mounting kit fits most one-ton dump body's.
Constructed of extruded T-6 alloy & 5052-H32 aluminum sheet for durability.
Installed unit weight – 313lbs.
Backlit, fused, 100 AMP motor controller- U.S. made*
Auto-level spinner requires no linkage.
Right angle spinner motor drive provides higher motor road clearance.
Stainless steel 5″ auger, 12″ spinner plate, and all hardware
All bolt-on kit installs in 5 hours.
Auger reducer is in-line premium helical gear type for 98% efficiency.
Spreads free-flowing material up to 3/4″ in diameter.
Two year factory Limited warranty (excluding wear items)
*150 AMP Alternator recommended for 10,000# output
Options
TC-160 OPTIONS