DUMPING ALUMINUM FLATBEDS
Features
GENERAL STARTLIFTER DESCRIPTION
Heavy duty or extra heavy duty aluminum flats, factory assembled on a pre-painted subframe, complete with a double-acting MONARCH® power unit and all hardware required for quick installation. Available in sizes to fit pickup trucks, up to body lengths of 14'-2" long for 120″ C.A.'s. Dump capacities from 9,500 lb to 17,000 lb.
Double-acting hoist, MONARCH® power unit; 50-degree dump angle
All steel subframe
Comes pre-assembled to painted hoist & sub frame.
High strength T6 extruded alloy construction
LED marker lights with harness included
Stake pockets cut into top rail
Two-year "limited" warranty
TC-503 STORM DESCRIPTION
The TruckCraft TC-503 STORM is available in 9′-9″ & 11′-5″ versions with either 40″ or 50″ high sides to fit your job needs. Options include a passenger-side front door, tailgate with coal-chutes, various rear barn-door configurations and roll tarp.
Lengths Available- 9′-9″ & 11′-5″
Side Heights Avail- 40″, 50″
Cubic yard. Cap- 11′-5″x50″=12.8; 11′-5″x40″=10.2; 9′-9″x50″=11.3; 9′-9″x40″=9.0
Weight- 11′-5″ – 1,913 lb;     9'9″ – 1,655 lb
Hoist Type- Double acting, NTEA CL7, Scissor with sub frame, pendant control
Dump Capacity- 11′-5″ 16,600 lb; 9′-9″ 17,000 lb
Floor- 2-3/8″ extruded T6 alloy alum planks, 3/16″ top surface, with stiffeners on 5″ centers
Fully assembled from factory
Longsills- T6 alloy 7″ H-Beam
Full height solid rear barn doors std
Rub rail- 5-1/2″ tall T6 alloy aluminum
All doors are removable
FMVSS Compliant markers with harness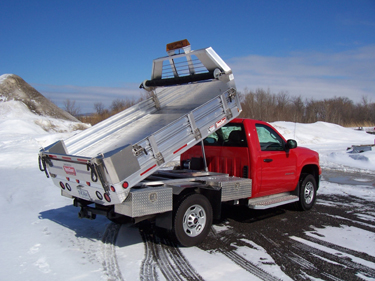 \TC-508 ARROW DESCRIPTION
The TruckCraft ARROW dumping flat weighs less than 800 lbs, including the cabguard, and is designed to make your SRW pickup into a working dump truck. (Never exceed the GVWR rating of your vehicle) Arrow has a 7,000 lb dump capacity, so no matter how big your job, you will have lift capacity to match your truck GVWR. The efficient front telescopic cylinder & electro-hydraulic power unit are pre-assembled at the factory to make this a super quick install on your vehicle – just hook up the supplied battery cable, marker lights, and make the required fuel fill connections and you're ready to go.
Options
GENERAL STARTLIFTER OPTIONS (See literature for full list of options)
Available in 81″, 94″, and 96″ widths
Variety of Stake Racks or Drop Sides available.
Variety of Cabguards offered.
Tailskirt w/LED Lights and harness
External rub rails with stake pockets
Flush mount 6,000# cap D-Rings
TC-503 STORM OPTIONS(See literature for full list of options)
Side Access Door- 49″ wide, pass. side, front
Cabguard- 40″ lg, 6 tie-downs, 200 lb load cap
Tailgate- two-way, single-handle top-drop with perforated upper barn doors
Bail operated coal chute.
Roll up tarp assembly.
TC-508 ARROW OPTIONS(See literature for full list of options)
Stake Racks or Drop Side set with tailgate
Tailskirt with LED lights & harness
External rub rails
Flush mounted D-Rings
Photos may show options or customer modifications not included in base models