ALUMINUM FLATBEDS
Available models include heavy duty flats (200 lb./sf load rating), extra heavy-duty flats (350 lb/sf load rating), dumping, towing, and specialty flats.  In the Dumping Aluminum Flats  section see our Reversed-Hoist dumping flat with a 17,000 lb. hoist capacity plus a 30,000-pound tow-capacity gooseneck ball factory installed. All TruckCraft flats are made of 100% T6 alloy extrusion in a proven design that gets more strength and rigidity per pound of aluminum than even many steel flatbeds (but at just 60% of the weight).  Sizes and capacities are available for pickup trucks, up to 19,500-pound capacity one-tons.
All construction materials are T6 aluminum alloy extrusion with 37,000 PSI minimum tensile strength. The floor is made of plank extrusion that is designed with a tongue-in-groove joint on each plank top, and two crossills every 5″ for rigid reinforcement that will take heavy punishment in stride.
The standard long sills are 4″ high x 2 1/4″ wide structural aluminum channel, with optional 6″ or 7″ longsills available for hoist, or extra heavy duty applications.
Rub rails are a custom shape providing 5 1/2″ side height with extruded ribs for added strength and improved appearance. The rub rails, as well as the front and back rails, have stake pockets cut into the tops. Bed corners are mitered for safety and improved appearance.
Body comes complete with flush mounting 2 1/2″ grommet style LED clearance and marker lights, with wiring harness.
RATING: TC 500 is rated for 200 lbs/SF evenly distributed load. e.g., 96″W X 110″L= 73Sq.Ft. = 14,600lbs rated load.
Features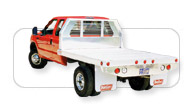 TC-500 SPECIFICATION AND OPTIONS
1 Year "limited" Warranty
Floor Construction – Plank extrusions provide rigid reinforcement every 5″.
Rub Rail – 5 1/2″ custom shaped rub rail with mitered corners & stake pockets cut in the top.
Cab Guard – Profile shape with protected window area. 5 1/2″ frame matches rub rail appearance. Bulkhead of 1/8″ bright diamond plate.
Tailboard – 10″ high, bright diamond plate with wrap around corners. Includes license plate light, 6″ oval stop, tail, turn and backup lights.
LED Lighting standard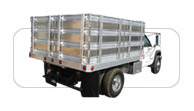 TC-500 RACK SPECIFICATION
Extruded, tempered .125 thick T-6 alloy aluminum rack sides for the TC-500 product series. Available in 6″, 12″, 18″, 24″, 30″ and 40″ heights.
Rack Sides assembled.
Built-in stake pocket latch in each section – (30″ & 40″ only)
Uprights can be re-positioned anywhere horizontally along slats.
All extruded, tempered, .125 thick T-6 alloy aluminum for 37,000 psi min tensile strength.
Fluted slats for custom appearance
All slats and uprights capped on ends.
40″ high – 4 slats; 30″ high – 3 slats; 24″ high – 4 slats, 18″ high – 3 slats, 12″ high – 2 slats; 6″ high – 1 slat.
All bolted construction allows easy field replacement of damaged slats or uprights.
TC-501 HERCULES EXTRA-HEAVY DUTY ALUMINUM FLATBED SPECIFICATION
The big brother to TruckCraft's proven-design TC-500 heavy-duty flat is the TC-501 HERCULES, popular with our Canadian customers. The load rating of Hercules is 350lbs/sq ft level load. The floor planks are T6 with 3/16″ thick tops, crossills on 5″ centers, and longsills are 7″ H-beams.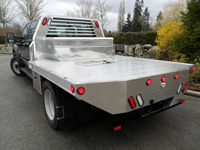 TC-505 Lynx Tow Body
TruckCraft offers an all-aluminum heavy duty tow body that allows you to load up to 200 lbs/sq ft on the deck, but still provides lasting great looks and more payload through the use of T6 alloy extrusion in an ultra-efficient design. LYNX-PLUS provides the same features as LYNX, but PLUS comes with a 30,000# capacity tow ball installed at our factory. Just set it on your truck frame and bolt it down – saves loads of time at installation.
Options
TC-500 OPTIONS
External Rubrail 2 1/4″ x 7/16″ alum., available sides only
12″ and 18″ drop sides with top drop tailgate
Widths 81″, 85″ 94″, 96″ & 102″. Lengths up to 20ft
Splash Guards – Front, Diamond Plate
Mudflaps – Embossed Red TruckCraft Logo
CABGUARDS – 35.5″ up to 60″ tall
6″ & 7″ Longsills
Tubular Aluminum Step Bumper
6″, 12″, 18″, 24″, 30″, 40″ Extruded Aluminum Rack Sides
Installation Hardware Kit
Installation Mounting crossmembers for SPRINTER, TRANSIT, AND PROMASTER, Chassis